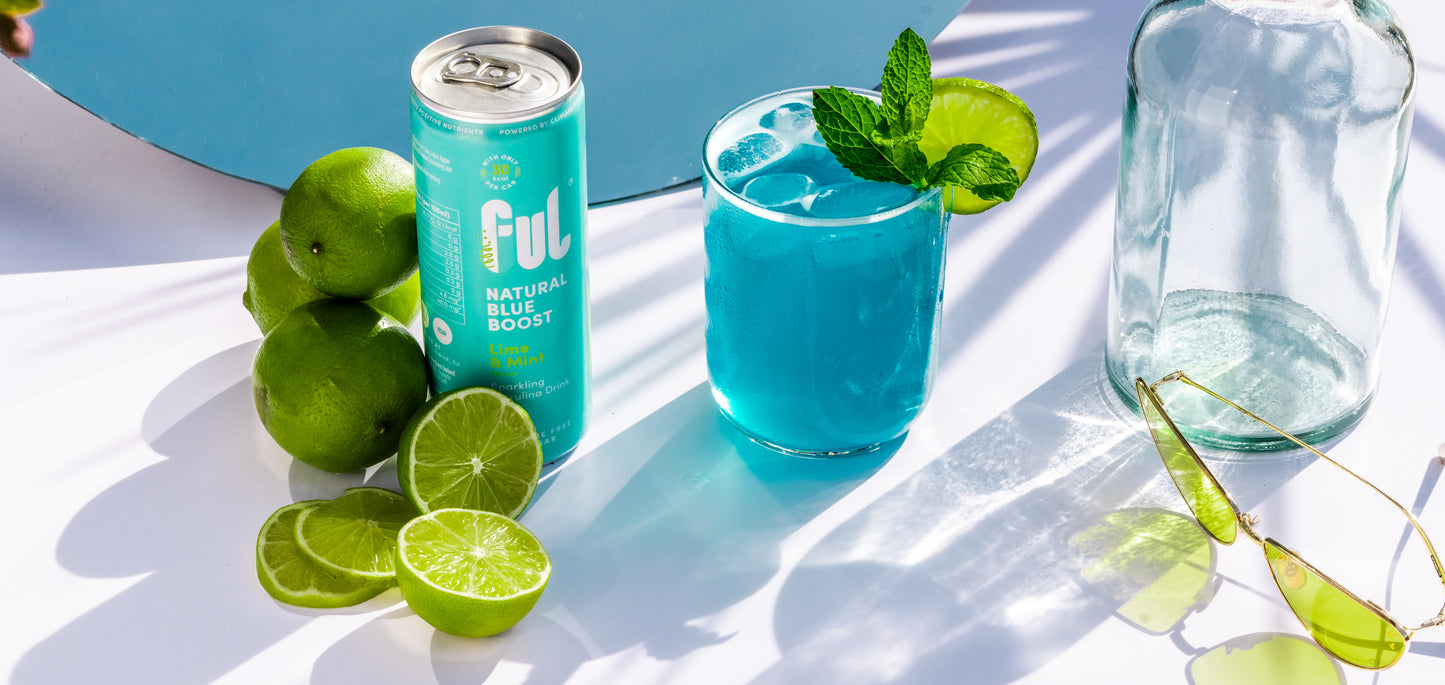 Key points
Ordering pre-cooked meals is a time saver. It also makes it so much easier for vegans to watch their nutrient intake. If you're looking for vegan delivery services in the UK that offer tasty and high-quality food, check out Gousto, Cook, Abel & Cole, Allplants, PEP Kitchen, Veggies, LEON, and Root Kitchen.

Green Chef, KBK Plant Based Meal Prep Delivery, Soulful, Planty, and Root Kitchen are the best vegan delivery services in the UK that feature a subscription option. You can simply order your pre-made frozen meals ahead so you won't have to worry about cooking food for the next few days.

If you're in the mood for vegan chocolate, try Moo Free shop. They offer a great variety of chocolate bars and other chocolate snacks. 

For healthy vegan fizzy drink alternatives, try FUL® spirulina drinks. These beverages offer are free of added sugar, nutrient-rich, and eco-friendly. They are also delicious and don't taste anything like regular foul-smelling spirulina powder. 
People who follow a vegan diet often find themselves eating the same meals every week and getting tired of it. Or many of us simply don't have time to find new recipes, go shopping, and cook intricate meals, and this is where food delivery services can become a real saver. Whether you want to buy a meal kit with pre-measured portions so that you won't need to count all the nutrients yourself, frozen microwave meals, or pre-made meal boxes, vegan meal delivery can meet all your needs. If you follow a vegan or plant-based diet, try one of these 20 best vegan delivery services in the UK the next time you're craving something different.  
Green Chef
Green Chef is a branch of Hello Fresh that offers vegan meal subscription boxes. All their boxes are assembled with high-quality organic and sustainably grown ingredients. Green Chef doesn't put any meat or highly processed ingredients in their boxes. All their packaging is vegan and cruelty-free, and their meals are very well-balanced, too, with at least 20g of protein content per serving.

FUL®
If you're looking for a delicious vegan beverage delivery service in the UK, look no further than FUL®. Our tasty bottled and canned blue drinks are packed with 100% vegan-friendly spirulina nutrients. This means that they provide all the health benefits of regular spirulina without exposing you to its foul odour or flavour or requiring you to spend time preparing your beverage. Plus, the superior manufacturing processes we use to create these drinks increase the bioavailability of nutrients compared to powdered spirulina. Finally, FUL® is the best climate-friendly spirulina brand. We recycle CO2 and create delicious, high-quality drinks packed with natural spirulina nutrients. FUL® is a truly conscious and delicious choice.
Why take spirulina in a pill or powder when you can incorporate its benefits into your diet without any additional effort? Check out FUL® sparkling spirulina drinks that provide these nutrients on the go.
KBK Plant-Based Meal Prep Delivery
KBK is also a meal prep delivery service that is great for everyone who wants to save time on preparing their meals but still get all the nutrients of a home-cooked meal. You have different options here: order a one-off package, get a meal subscription or try a taster box which provides breakfast, lunch, and dinner for three days. 
Gousto
While Gousto was originally created as a meal delivery service, it has now expanded and offers different plant-based meals. They source fresh ingredients from quality suppliers. Plus, the recipes are very easy to follow, and many of them can be cooked in less than 10 minutes. Gousto also offers different meat alternatives if you want to diversify your vegetable plate.
Feast Box
For those looking for a recipe box delivery, Feast Box is a great option. Their menu changes weekly and always has some vegan options. You get a recipe box with ingredients, and it's not uncommon to find foods you might have never heard of in the box! This gives you a great opportunity to try different dishes from around the world. The portions are pretty large, too, so that's another upside.
The Brook
The Brook delivers delicious pre-made meals that are not only healthy but filling too. All their meals are nutritionally balanced and made from organic ingredients. Your order will be delivered in fully recyclable packaging, and the delivery process itself is carbon-neutral too. It's a great way to try exquisite and healthy meals while being conscious of the environment.  
Mindful Chef
With Mindful Chef, you can choose from a wide variety of fresh vegan recipes designed by nutritionists. The company sources all ingredients from small British farms and delivers clean organic produce to its clients. All their recipes are free of added sugar and refined carbs. They also have a selection of smoothies and offer meal boxes for up to 4 people. Plus, for every meal they sell, they donate a school meal to children in poverty.
Cook
Cook's goal is to provide affordable but responsibly sourced produce to their customers and combine delicious taste, quality, and sustainability in their products while minimising the environmental footprint. They assemble vegan meals with the best products available in the season while prioritising the use of locally sourced ingredients. All of their products can be traced back to their source as well.
Abel & Cole
Abel & Cole is one of the most popular British organic and vegan delivery services. They recently swapped out meat for other alternatives in all of their meat kits, which reduced the carbon footprint of each meat-free kit by about 60%. Each week, you can choose from 12 delicious environmentally-friendly meals. 
Allplants
Allplants delivers delicious pre-made frozen meals to your doorstep. They offer a wide selection of vegan chef-made meals, which are frozen right after cooking to keep them fresh for a longer time. Allplants also support sustainability, and their packaging is recyclable, compostable, or reusable. Their delivery process is carbon-neutral too.
Soulful
Besides being on the shelves of every supermarket, Soulful also has a fresh vegan meal delivery. You can order each meal separately or go with the Soulful Selection box that comes with free delivery. There's an option of subscribing to regular meal delivery as well. By the way, Soulful Food is a Certified B Corp, which means that the company follows the highest standards of social and environmental performance. They also make a donation for every meal they sell. 
Planty
Planty is another delivery service that features vegan frozen meals. You can either order meals individually or try their flexible subscription. One of the perks of Planty's subscri[tions is that the more you order - the cheaper it gets. All the ingredients are 100% plant-based and contain no artificial additives. The packaging is also recyclable, compostable, or reusable, and the delivery is carbon-neutral. 
PEP Kitchen
PEP Kitchen is a relatively new addition to the vegan market since it was launched only in 2020. Still, it is as good as other companies that have been delivering vegan meals for years. The company has a pretty diverse plant-based menu that also includes meals inspired by other cuisines. As an option, you can also order meals for two as well as low-calorie meals, gluten-free meals, and high-protein meals.
Moo Free
It may be a struggle to find delicious vegan sweets, but Moo Free has it all, from delicious vegan chocolate bars to organic chocolate Easter eggs. All of their chocolate varieties are dairy-free, lactose-free, gluten-free, and soy-free. Tease your taste buds with different flavours such as Cheeky Orange, Crunchy Banana, Sea Salt & Caramel, and Strawberry Chocolate. Overall, this is a great service for getting your sweet snacks.
Riverford
Riverford is a vegan delivery service featuring organic recipe boxes with plant-based meals that change weekly. Each box contains only fresh, organic, and seasonal produce that's in season at the time. Riverford locally sources 80% of vegetables from small-scale farms and doesn't use air freight. However, keep in mind that Riverford may use wool as part of the insulation in their packaging. 
Fresh Fitness Food
With Fresh Fitness Food, you can have a healthy prepared meal delivered to your door. The company offers personalised meal plans that best fit your fitness needs and goals. The menu is assembled by a consultant who has worked with many stars and includes only fresh, high-quality ingredients. It's a great service for those who want to reach their fitness goals without going through a try-and-fail phase. 
Vibrant Vegan Co.
Vibrant Vegan Co. is a great vegan company that services frozen meals specifically formulated to meet various nutritional goals. You can choose low calory, gluten-free and slow-energy-releasing meals that will keep you full for longer. The company supports sustainability in every step, from sourcing the ingredients to delivering them to the customers. For every meal you buy, they donate one to a child in poverty.
Veggies
You can get Veggies vegan products at festivals or animal rights demonstrations for free or at a low cost, but you can also order their products online. According to the Ethical Consumer Research Association, their best sellers are plant-based burgers and sausage mixes. The company offers a great combination of healthy products and affordability. 
LEON
Leon is a healthy fast-food chain that started doing home delivery during the pandemic. Their Vegan Family Meal boxes are actually cheaper than the meat-based options, which is rare for food delivery companies. The Vegan Meal contains pre-made meals with three plant-packed dishes – Brazilian Black Beans, LEON Gobi, and the new Coconut, Jackfruit, & Lime Curry – all with brown rice on the side.
Root Kitchen
With Root Kitchen, you can order 6 to 10 meals either as a one-off or under a subscription. All the produce is picked fresh from local suppliers, and their meals don't contain any artificial colours or additives. Sourcing the vegetables locally makes them as fresh as possible, so you can be sure that you're getting high-quality meals. The packaging is also planet-friendly and fully recyclable with denim insulation. 
FAQ
What is the best vegan meal delivery service in the UK?
There are a lot of vegan deliveries available in the UK, and you can choose both individual products or complete pre-made meals. The most popular vegan deliveries in the UK are Green Chef, Gousto, Feast Box, The Brook, Mindful Chef, Abel & Cole, Allplants, Vibrant Vegan Co, Fresh Fitness Food, and Riverford. As for vegan drinks, FUL® is the best service that delivers nutrient-rich spirulina beverages all around the UK.
Is it cheaper to be vegan in the UK?
Yes, vegan diets may be more affordable since you cut back on meat, dairy, and other animal products. Vegan diets are also environmentally-friendly and many companies use recyclable, reusable, or zero-waste packaging.
Should a vegan take spirulina?
Yes, spirulina is one of the most recommended supplements to take when you're on a plant-based diet. Spirulina is a powerhouse of vital vitamins and minerals as well as amino acids and protein - all of the nutrients that a vegan diet may lack.