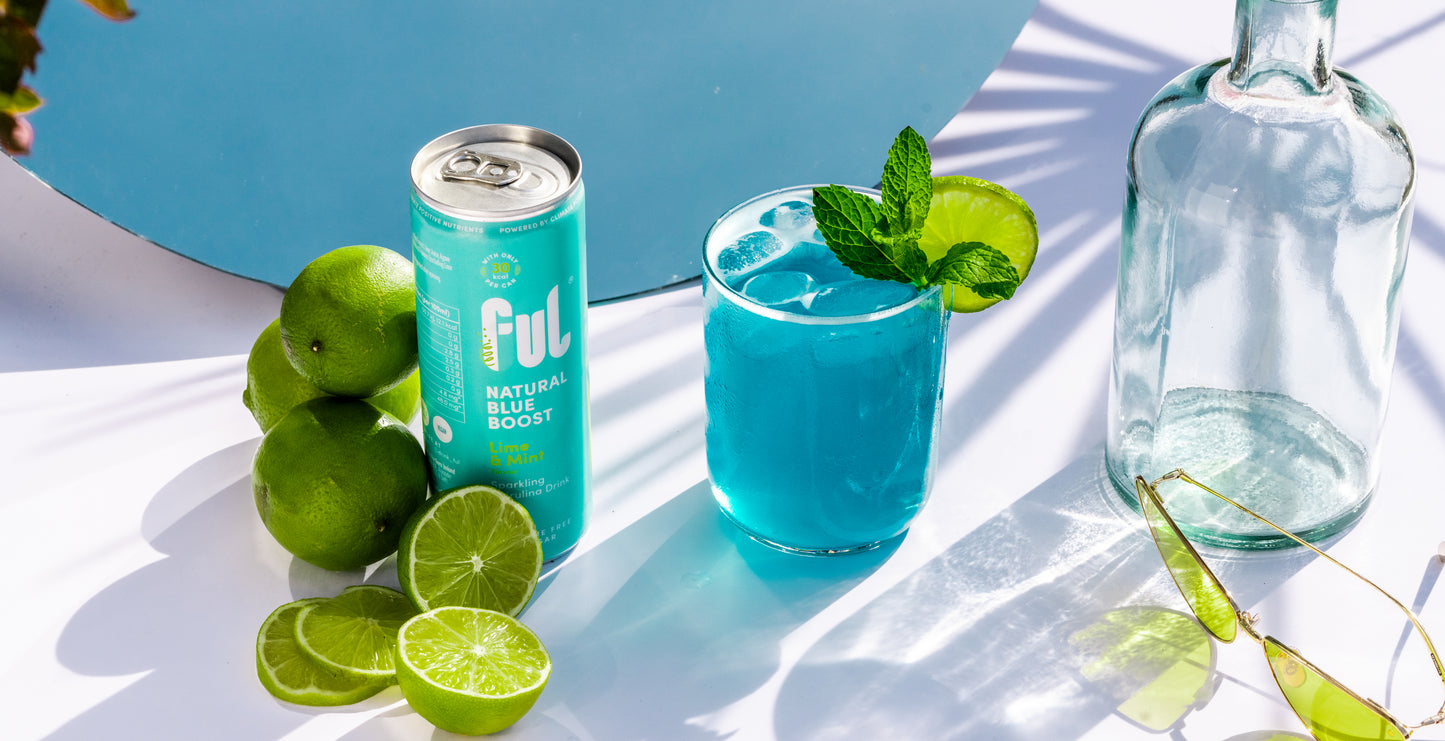 Key points
Some of the most popular mineral water brands are La Croix, Perrier Mineral, Bubly Sparkling, Hal, Gerolsteiner, and Sparkling ICE. 

If you're looking for original sparkling water flavour, try Canada Dry and Kirkland brands. 

FUL® sparkling spirulina drinks are packed with essential nutrients from natural spirulina extract, which makes them the healthiest option.

Spindrift Sparkling Water, Polar 100% Natural Seltzer, Waterloo Sparkling Water, and Poland Spring Sparkling Water are made with all-natural juice and come in various delicious flavours. 

If you like unique flavours in your sparkling water, try Good & Gather, Aura Bora, and Recess. 
Today, more and more people are opting to swap out fizzy drinks for natural sparkling water. One of the main reasons for this is that sparkling water is the best healthy alternative to sodas and other sugary carbonated soft drinks. Some sparkling soda brands infuse these drinks with natural flavours to provide their customers with a wider selection of options. 
Sparkling water is also believed to have several health benefits, such as promoting digestion, nourishing the body with vitamins and minerals, and preventing dehydration. If you're trying to cut back on soda or have a hard time meeting your hydration goals, sparkling water might be a perfect option for you. But with so many options and flavours to choose from, how can you know which one to choose? In this article, we'll talk about the best sparkling water brands and help you find the best beverage that suits your needs. 
La Croix Sparkling Water
La Croix is one of the most recognisable sparkling water brands with its iconic design and wide selection of flavours. This sparkling water is all-natural and made with environmentally-friendly ingredients. Some of their delicious flavours include cherry blossom, black raspberry, key lime, and watermelon. La Croix is also a perfect sparkling water to mix with cocktails. Their variety pack has 14 different flavours, so you'll definitely find a flavour you will love.
Spindrift Sparkling Water
Spindrift Sparkling Water is a very famous sparkling water brand that adds real fruit juice to its beverages and uses only natural flavours. Their drinks are completely free of artificial sweeteners, flavours, and preservatives. Founded in 2010, the company soon became one of the best-tasting sparkling water brands that uses only natural ingredients. They have a variety of delicious flavours, such as grapefruit, raspberry lime, cucumber, and strawberry. Because of the juice content, this sparkling water also has a slight hue of colour. It's also low in calories, with each serving containing between 0 and 15 calories, which makes Spindrift a great delicious and healthy soda substitute.
Good & Gather Sparkling Water
This is the best budget-friendly sparkling water brand that also offers some unique and delicious flavour combinations. To keep their drinks affordable, the company uses natural flavouring instead of fresh fruits and juices. You can choose among grapefruit, mixed berry, strawberry mango, and cranberry citrus varieties for your next sparkling water fix. 
Perrier Mineral Sparkling Water
One of the most iconic and recognisable sparkling water brands, Perrier, is available all over the world. This French brand has been in business since 1898. Their sparkling water is well-carbonated and includes vital minerals such as calcium, magnesium, and potassium. As for the taste, it's slightly sweet with a sub-hint of lime. Their bottled sparkling water comes in all sizes, and their mini bottles are perfect for grabbing and drinking on the go. 
FUL® Sparkling Drinks
While it's not strictly a sparkling water brand, FUL® is one of the best sparkling beverage brands available on the market today. Our spirulina-infused carbonated soft drinks deliver a host of health benefits, and unlike traditional mineral water, they are not just rich in minerals but also in vitamins and antioxidants. FUL® spirulina drinks are all-natural and contain no artificial flavourings or colourings. And they are delicious too! If you're looking for a tasty fizzy drink substitute that's packed with nutrients, FUL® drinks are worth checking out. They come in different flavours, and you can also order a mixed bundle to try each flavour and find your favourite.
San Pellegrino Natural Sparkling Water
Originally developed in Italy, San Pellegrino's sparkling water is well-known for its mineral content all across the world. The water is rich in calcium, magnesium, sodium, and potassium. It has a slightly sweet taste with a note of citrus. San Pellegrino is a classic sparkling water brand that is available in different sizes, which makes it a go-to option for people all over the world.
Bubly Sparkling Water
Bubly appeared on the market relatively recently. Launched by PepsiCo in 2018, this sparkling water comes in a variety of delicious fruit flavours and is free of artificial sweeteners or additives. This brand is vegan-friendly and gluten-free, making it a perfect addition to any diet. You can choose the flavour that speaks to you or go with a variety pack. Plus, their packaging looks very cute, so you can always feel fancy when drinking this water.
Canada Dry Original Sparkling Seltzer Water
If you're looking for simple, traditional, no-flavour sparkling water, Canada Dry original seltzer may be the perfect pick. Just open a bottle and enjoy their fizzy well-carbonated beverage, perfect for those who're craving a bubbly drink.
Hal's New York Seltzer Water
This is one of the best-tasting carbonated waters with a high level of carbonation, which makes it perfect for fizzy drink lovers. Each bottle contains only filtered carbonated water and all-natural flavouring. In addition to being full of delicious fizz, Hal's seltzer is also available in different flavours, with sweet vanilla cream being one of the most recognisable options.
Polar 100% Natural Seltzer
Polar seltzer water offers an abundance of different fruit flavours. The water contains no artificial ingredients such as sweeteners or preservatives and is made using only real fruit juice. It's also vegan-friendly, gluten-free, and non-GMO Project Verified. Polar natural seltzer is also perfect if you're pro-sustainability. It's the perfect drink to enjoy on a hot day.
Waterloo Sparkling Water
Just like other options on this list, Waterloo is also available in different fruity flavours. It's made with no artificial sweeteners, flavours, or preservatives and contains only real fruit juice. Waterloo's mission is to create a fizzy drink with authentic flavours, and since its launch in 2017, the company has come up with a variety of delicious flavours, such as passion fruit, summer berry, and cherry limeade. If you're craving a stronger flavoured drink, Waterloo sparkling water is a great option.
Gerolsteiner Sparkling Mineral Water
Gerolsteiner is a German brand of sparkling mineral water that is naturally carbonated and full of minerals such as calcium, magnesium, sodium, and potassium. The water is 100% clean. Before it's collected and bottled, it passes through volcanic rock, which enhances it with minerals. Only one serving has a third of the daily calcium and a fourth of the daily magnesium requirements. Simple and unflavoured, Gerolsteiner sparkling water is slightly sweet with a hint of citrus.  
Sparkling ICE
Founded in 2004 in Washington state, Sparkling ICE comes in different delicious flavours such as cherry, orange, lemon-lime, and grapefruit. It's less carbonated than other sparkling water brands but still refreshing and tasty. It's also affordable, and the company regularly launches new products. The water is well-carbonated too, and the carbonation holds for a long time if you keep the cap on.
Poland Spring Sparkling Water
Poland Spring is an American company that has been on the market since 1845 and remains one of many people's favourite beverage brands. Polar sparkling water is made with 100% natural real juice, and it is very sweet and full of flavour. There are lots of different delicious options to choose from, including lemon-lime, black cherry, and grapefruit. Plus, the company supports sustainability efforts, and the packaging is classic and colourful.
Kirkland Signature Sparkling Water
Kirkland Signature is known as one of the most affordable sparkling water brands. The brand also offers a variety of different flavours, including classic options like lemon, lime, and their original flavour. This water is lightly carbonated and perfect for those who don't love strong fizz. You can also transform this sparkling water into a delicious summer drink by adding gin and ice to the lime-flavoured beverage or mix it into mocktails if you like.
Aura Bora Sparkling Water
Aura Bora sparkling water is a go-to choice for those who're tired of classic lemon and lime flavours. Its unique flavour combinations will definitely impress even the pickiest consumer, and what's even better, they are made with real herb, flower, and fruit extracts. Next time you get a chance, explore their Cactus Rose, Basil Berry, Lemongrass Coconut and many other flavours. Keep in mind that this variety comes with a price.
Recess Infused Sparkling Water
Another favourite on our list is the Recess sparkling water bundle mix. It comes with fun and tasty flavours such as blackberry chai and coconut lime and is infused with superfoods like hemp and ginseng. The drinks are 100% organic.
FAQ
What is the best sparkling mineral water?
Mineral water is a healthy soda alternative. La Croix, Perrier Mineral, Bubly Sparkling, Canada Dry, Kirkland, Hal, Gerolsteiner, and Sparkling ICE are some of the best sparkling water brands that offer both unflavoured and fruity beverage varieties.
What sparkling water is made from natural juice?
Sparkling water brands infuse their drinks with natural flavours or natural juices. If you're looking for a mineral water brand that uses natural juices, we recommend choosing Spindrift Sparkling Water, Polar 100% Natural Seltzer, Waterloo Sparkling Water, and Poland Spring Sparkling Water.