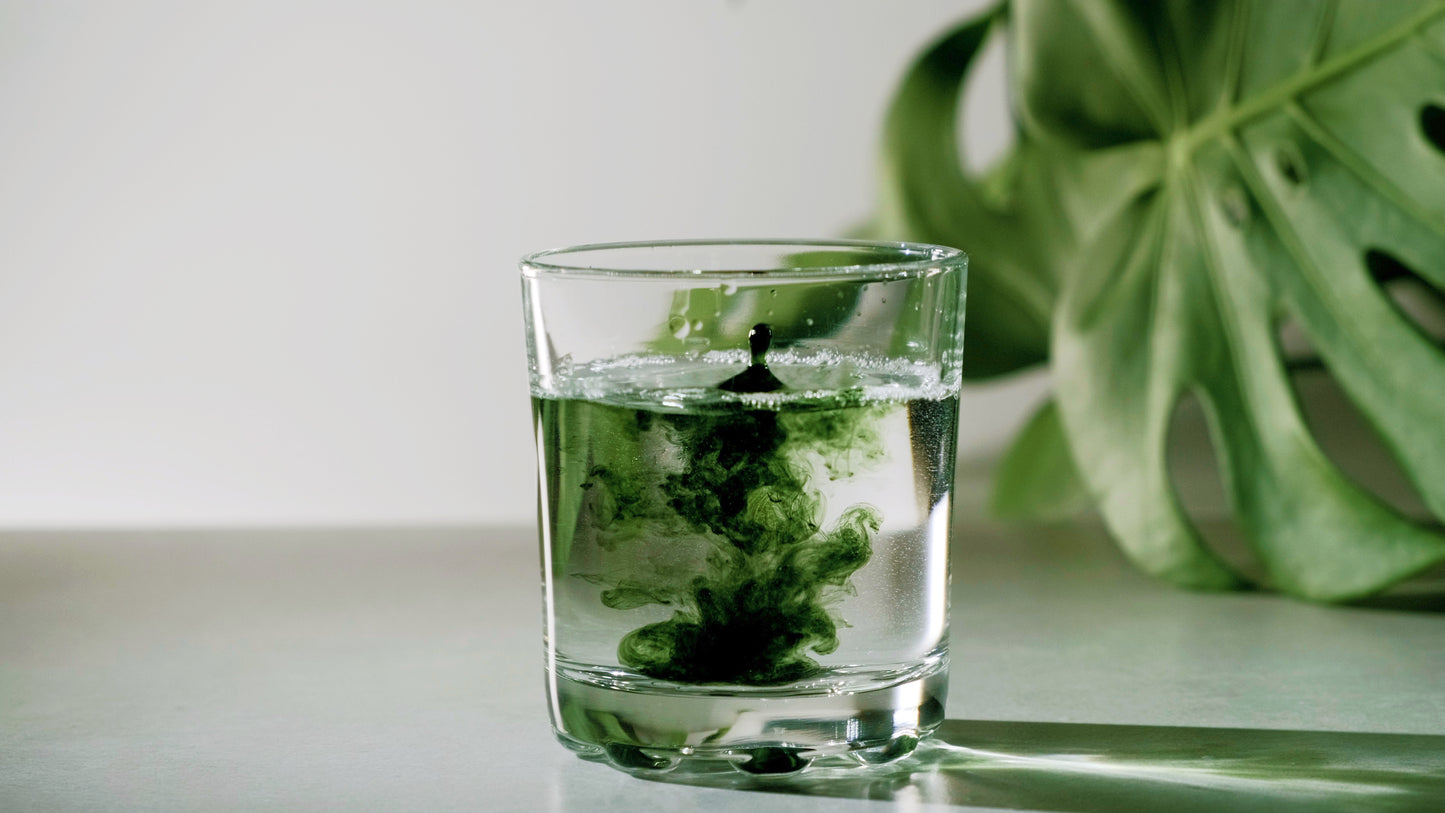 Key points
The best websites where you can purchase chlorophyll include Amazon, iHerb, MyVitamins, Holland & Barrett, Just Vitamins, and Supplement Place. You can also get chlorophyll from local stores and pharmacies, which will save you a significant amount of time on waiting for the order. 

Many people prefer making their own chlorophyll at home rather than purchasing a pre-made supplement. Chlorophyll can be extracted from different greens, including parsley, spinach, broccoli, Brussel sprouts, pepper, and leeks. 

Chlrolophyll's natural taste may be slightly off-putting, which is why consuming it in the form of natural flavoured fizzy drinks is a life-changer. Nutrient-infused beverages made by FUL® will not only satisfy your taste buds but also provide you with all the benefits of chlorophyll, including its anti-inflammatory, antibacterial, and antioxidative properties. 
Today, chlorophyll dietary supplements are at the peak of their popularity. Many people consume chlorophyll water daily because they want to take advantage of all the health benefits it has to offer. While we naturally consume some amount of chlorophyll with greens in our diet, most people can benefit from an extra dose of chlorophyll that can help promote our health. 
Chlorophyll is an excellent source of vital minerals and nutrients, known for its antioxidative, anti-inflammatory, and antibacterial properties. This supplement helps to boost the immune system, maintain healthy blood circulation, and improve kidney health. Some people even use it to help with weight loss. Overall, chlorophyll is a common natural detoxifying supplement that can help you get rid of all the toxins and promote your general well-being.
Chlorophyll Drops vs Premade Chlorophyll Water
Most people who regularly consume chlorophyll water make it by mixing pre-made chlorophyll drops with a glass of water. However, this is not always the best option. For example, some people find the taste of chlorophyll water very unpleasant or don't want to take the time to make chlorophyll water every day. Plus, some studies have found that chlorophyll water can have a negative impact on tooth enamel. Fortunately, there are other alternatives to regular chlorophyll supplements that don't have these downsides.
For instance, FUL® sparkling spirulina drinks allow you to get all the benefits of chlorophyll and spirulina without experiencing unpleasant side effects. These drinks are pre-made, so you can drink them on the go without taking the time to mix them. They are also fizzy and delicious, and there are several flavours you can choose from. Plus, FUL® beverages don't have a negative effect on your teeth.
Sparkling spirulina drinks are excellent if you want to increase your nutrient intake and drink your nutrients on the go! Rich in essential vitamins, including vitamins E and K, minerals, and antioxidants, these beverages offer all the virtues of chlorophyll in a convenient format. You won't have to worry about measuring the correct dose, making the drink, and cleaning up afterwards - you just grab a fizzy drink from the fridge and get your nutrient boost instantly! 
Browse our website to learn about the wide variety of flavours and packages we offer to suit everyone's taste. Sparkling spirulina drinks by FUL® are a great combination of fun fizzy beverages with the impressive health benefits of spirulina extract. And you get these drinks delivered right to your house, so you won't even have to bother picking them up! Buying pre-made chlorophyll water is a win-win, as you get all the nutrients without needing to take the time to prepare the drink. 
Where to Buy Chlorophyll Drops
If you want to try using chlorophyll drops, there are numerous places where you can buy them in the UK:
#1 Amazon 
As the biggest online marketplace, Amazon offers a huge variety of brands when it comes to buying anything, including dietary supplements. You can scroll through the website from the comfort of your home and compare the different brands and prices, choosing a product that suits your needs best. Plus, if you have an Amazon Prime membership, you can search for exclusive deals and enjoy fast and free shipping. Amazon also offers a Subscribe & Save option that allows you to schedule repeating deliveries of the supplement at set periods of time, so you won't need to remember to keep placing new orders over and over again.
Amazon also has great customer service, and you can always contact them if you have any issues with your order. Their return policy is also very generous.
#2 iHerb
iHerb is one of the most popular supplement retailers that has been on the market since 1996. The company offers only high-quality supplements that are stored in thoroughly controlled conditions. When you visit the iHerb website, you will be able to explore most products as if you're picking them out in a store, which offers a unique customer experience that many iHerb clients enjoy. You can view products in alphabetical order, by brand, by health topic, or search them using keywords such as "kosher", "organic", "gluten-free", and others. You can also enjoy free shipping if your order costs more than $20 (£15).
#3 Holland & Barrett
Holland & Barret is a leading British company specializing in dietary supplements. You can find all sorts of vitamin supplements and protein products on their website including FUL® Spirulina Drinks. You can enjoy free delivery for orders that exceed £20 and a return period of 30 days. 
#4 Just Vitamins
Just Vitamins is another trusted company that offers premium-quality vitamins, minerals, nutritional supplements and herbs. They also offer free delivery within the UK. The company supports eco-friendly business practices and uses only recycled materials for shipping boxes. All their products follow a strict, standardized manufacturing process and are made in compliance with industry safety requirements. 
#5 MyVitamins
If you're looking for a reputable company selling its own branded products, you should check out the MyVitamins website. The company collaborates with many experts, including nutritionists, when formulating and manufacturing its products. The selection of different supplements, vitamins, and minerals offered on their website is impressive too. This is also a great website to order your supplements from if you need them right away since there's an option of next day delivery. Also, if your order total exceeds £25, shipping is free.
#6 Supplement Place
A winning combination of high-quality natural products and reasonable prices is something Supplement Place is known for. This company has been on the UK market for 15 years, and in that time it has gained a good reputation and a lot of loyal customers. They sell all-natural products free of preservatives, fillers, or added chemicals. All the raw materials they use in their supplements are cGMP certified. All the products are 100% vegan and packaged in heat-sealed recyclable plastic pots or pharmaceutical-grade heat-sealed foil pouches.
#7 Local Pharmacies and Supplement Stores
While most people prefer to shop for supplements online, local pharmacies and supplement stores can still come in handy from time to time. For instance, you may not realize that you're out of your supplements before it's too late, your online supplement order can get delayed, your preferred brand may be out of stock online, or you may need to pack some chlorophyll for an upcoming trip at this very second. While it will take you some time to go and pick up the supplements in a store, it's a great option if you need them first thing tomorrow morning. 
#8 Manufacturer Websites
You can often purchase vitamins, minerals, herbs and supplements directly on the manufacturer's website. This way, you can get the same high-quality supplements, but their price may be a little lower.
How To Choose a Chlorophyll Retailer 
Online retailers have a tremendously wide selection of chlorophyll brands and products, and this huge variety of choices may make it difficult to choose a high-quality chlorophyll supplement for first-time buyers. Remember that it's essential to buy dietary supplements from reputable companies to ensure their quality and safety. It's even better when the seller offers high-quality supplements along with quick shipping, reasonable prices, and an easy ordering process. Here are a few things you can pay attention to when choosing where to buy chlorophyll supplements:
Brands 
Look at the brands that the website offers. You may be searching for a particular brand of chlorophyll, or if you're unsure what brands offer the best supplements, you can look at some online reviews to get an understanding of products offered on the market. Then choose a brand that suits your budget. Opt for brands and websites with a lot of customers and a high product turnover rate to make sure that you get only fresh and high-quality supplements.
Prices
As with many other products, vitamin and dietary supplement prices vary depending on the retailer and the brand itself. It's best to choose a product that combines high quality and a good price. Your choice of a retailer may also depend on whether you're planning to make a one-time purchase or want to reorder your supplements every month or so. In the latter case, a retailer that offers supplement subscriptions may be a good option.
Shipping 
Usually, websites will either ship the product directly to your home or offer in-store pick-up. Depending on when you need your supplements, picking them up at a store may be quicker, but if you don't have time for this or the retail location is far away, you can have your supplements delivered. Make sure to check the seller's return policy before placing your order.
Making Chlorophyll Water at Home
The easiest and most common way to drink chlorophyll is to mix the needed amount of a chlorophyll supplement with water. The recommended dose is usually written on the label, so all you need to do is to stir it in a glass of water. 
However, some people find the taste of chlorophyll off-putting, especially when they try it for the first time. If this is the case for you, start with a smaller dose of this supplement (don't worry, you'll still get the benefits) and gradually increase the amount you take. If you want to make a super drink, you can also add chlorophyll drops to a green juice.
If you don't want to buy pre-made chlorophyll or can't deal with the taste, you can make chlorophyll water at home using fresh veggies, greens, and herbs. The best foods to extract chlorophyll are parsley, green pepper, broccoli, leeks, asparagus, Brussel sprouts, and spinach. Feel free to combine these products and get even more health benefits. It may be surprising, but you can also use cannabis plants to make chlorophyll. Since the juice is extracted from the flowers, leaves, and stems, the extract won't have any psychoactive effects. 
When making chlorophyll at home, all you need to do is to juice some green vegetables or blend them with water and then heat and stir the mixture over low heat in a saucepan. Then put the mixture in the refrigerator and drain it once it's cooled. 
FAQ 
Can you drink chlorophyll water every day?
Yes, you can safely consume chlorophyll water every day. According to the US Food and Drug Administration, you can safely ingest between 100 to 200 milligrams of chlorophyll every day, but you shouldn't exceed 300 milligrams.
How can I get chlorophyll water?
The most common way to drink chlorophyll is to mix the supplement with water. You can also make homemade chlorophyll water from greens like parsley, broccoli, spinach, and green pepper.
Which chlorophyll water is the best?
Chlorophyll-infused sparkling spirulina drinks by FUL® are the best option for getting your daily dose of chlorophyll without having to take the time to mix the drink. These natural, delicious, and organic drinks will give you a new and better way to experience chlorophyll and spirulina.
Where do I get chlorophyll to drink?
If you're looking for a place that sells chlorophyll, try searching websites like iHerb, Amazon, Holland & Barrett, Just Vitamins, MyVitamins, and Supplement Place. You can also always go to local stores and pharmacies and buy chlorophyll there.
What does chlorophyll do to your body?
Chlorophyll is loaded with essential vitamins and minerals and has potent antioxidative, antibacterial, and anti-inflammatory properties. Consuming chlorophyll daily can increase the amount of red blood cells in your body, improve skin quality, detoxify the body, relieve inflammation, and even aid with weight loss.