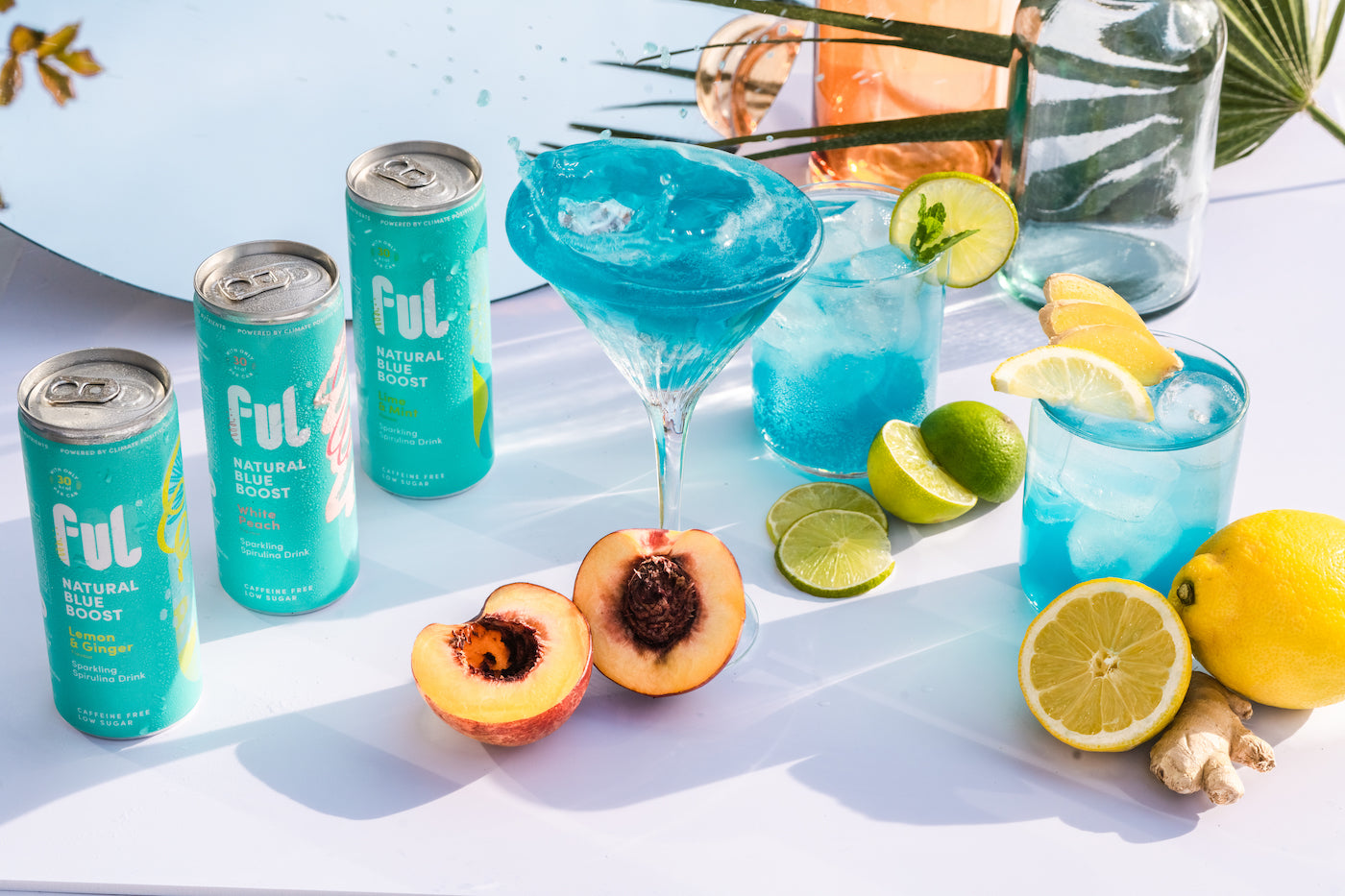 Key points
It's essential to pay attention to the quality of the spirulina you buy and consume. When cultivated in hostile environments, this algae can contain many dangerous compounds, including heavy metals, pesticides, GMOs, and irritants. Choosing spirulina from a reputable brand will ensure your safety and general well-being and allow you to fully enjoy the benefits of this superfood.

FUL® is one of the most innovative health food companies that uses creative ways to help its customers include spirulina into their daily diets. FUL® sparkling spirulina drinks are free from artificial colourings and sugars. They are also environmentally friendly.

Companies like HealthForce, Now Foods, Pure Hawaiian Spirulina, GNC Superfoods, Zhou's, and Sari Foods are the best options for buying 100% pure certified spirulina powder.

Brands like Dr. Mercola Spiru-Blue, Earthrise Spirulina, Triquetra Health Spirulina, and Spirulina + Chlorella Alkalizing Green Complex sell spirulina tablets for those who have a hard time measuring or including powdered spirulina in their diet.
Nutrient-dense products make up the basis of any healthy diet and help to provide your body with all the necessary vitamins and minerals. Spirulina is a well-known superfood that can become a great addition to any diet, especially for people who consume mostly plant-based foods. It's a great alternative source of protein, which also has impressive antioxidant and anti-inflammatory properties. 
But as with any supplements, it's crucial to buy spirulina from a reputable brand. This will not only ensure the quality of the product you are planning to consume but also prevent you from many hazards that these algae can pose if it's grown in incorrect conditions. This is why we've made a list of the top 12 best spirulina brands to save you time on finding a good option. Keep on reading!
#1 FUL®
Spirulina sparkling drinks produced by FUL® are some of the best commercially available products that allow you to get all the health benefits of this superfood. FUL® is a leading innovative beverage company that's offering a brand new way of implementing spirulina into your diet. 
The unique formulation of the beverage developed by a team of scientists allows you to get all the health benefits of this algae without having to experience its strong earthy taste. This is because FUL® drinks contain spirulina extract instead of regular spirulina powder. 
FUL® is an environmentally friendly, highly nutritious beverage packed with pure nutrients and antioxidants such as chlorophyll and phycocyanin. Each can or bottle of FUL® provides you with a boost of vitamins C, B1, B2, calcium, magnesium, iron, and potassium. In addition, Spirulina's potent anti-inflammatory and anticancer properties make this healthy beverage a great addition to any type of diet. 
#2 HealthForce Spirulina Manna
HealthForce Spirulina Manna is a 100% pure and tasty spirulina powder cultivated in the US. The product is certified vegan and vegetarian. Spirulina powder produced by this company passes many tests before reaching its customers. It's cGMP compliant and approved by FDA, and its manufacturing process doesn't use any flow agents, binders, or fillers. HealthForce's spirulina doesn't contain any GMOs or pesticides, which is why it's certified as a kosher, vegan, hypoallergenic, nut-free, and gluten-free product.
#3 NOW Foods Spirulina
NOW Foods has been on the USA market since 1968, which makes it one of the most trusted and popular brands. NOW Foods spirulina is available both in capsule and powder form. It is an organic, all-natural, nutritious product that is also gluten, corn, dairy, and egg-free. NOW Foods spirulina is vegan and has earned Halal and Kosher certifications for its quality. This supplement is GMO-free, and the company strictly follows all the GMP guidelines during the manufacturing process. NOW Foods has developed a special formula marked by high amounts of beta-carotene and vitamin B12. 
NOW Foods Spirulina contains gamma-linolenic acid (GLA) and chlorophyll - compounds naturally found in spirulina. The supplement has strong antioxidant and anti-inflammatory properties and offers all of the spirulina's health benefits. However, keep in mind that this supplement is not recommended for pregnant or breastfeeding women.
#4 Pure Hawaiian Spirulina
Pure Hawaiian Spirulina is another top-quality natural spirulina brand that is ranked highly by customers and experts and has a tremendous amount of positive reviews. Spirulina is cultivated in a US-based GMP-certified facility and undergoes an extensive quality control process before being packaged and shipped to the customer. It is tested for purity during each step of the production, which ensures the high quality of spirulina. 
The company states that its spirulina improves immune system function and has many other health benefits. However, while there's a need for further research in order to confirm all the claims, we can say for sure that Pure Hawaiian Spirulina is one of the most nutritious commercially available spirulina supplements, and it even contains more vitamin A than carrots. It comes both in powder and tablet forms, but the tablet form is more popular among customers.
#5 Mercola Spiru-Blue
Dr. Mercola Spiru-Blue organic spirulina supplement is another high-quality spirulina brand customers love. It comes in the form of tablets containing phycocyanin combined with a carotenoid complex called astaxanthin. The supplement has potent antioxidant properties, and it's also gluten and GMO-free. Dr. Mercola Spiru-Blue is certified and free of contaminants and heavy metals. The carotenoid complex found in the supplement is associated with improved blood circulation and a strengthened immune system.
This supplement may improve cognitive ability and eye function, prevent stress, and promote cardiovascular and immunity systems. However, more research is needed to confirm these claims.
#6 Earthrise Spirulina
Another reputable and well-trusted spirulina brand is Earthrise, which manufactures its products in North America in a certified environment and is thoroughly tested at every step of the process. Earthrise spirulina is free of pesticides, herbicides, stabilizers, additives, and preservatives. Additionally, this spirulina supplement is allergen-free, and you can purchase it in convenient tablet form. Each tablet of Earthrise spirulina contains the recommended dose and provides all the benefits of spirulina, including boosting the immune system and lowering cholesterol and blood sugar. This brand's spirulina is certified as vegan and is gluten, soy, and dairy-free. 
#7 Triquetra Health Spirulina
Triquetra Health Spirulina offers all the benefits of spirulina in a convenient and commonly used tablet format. It's a gluten-free and vegan product that is free of heavy metals, harmful bacteria, and toxins. The product is certified by many organizations, including Ecocert, Naturland, EU Organic, and USDA. Spirulina manufactured by this brand passes through many tests and quality control measures to ensure the best quality and safety. 
Triquetra Health claims that its spirulina supplements can improve blood quality and cardiovascular health, contribute to brain health, and help naturally detoxify the body. But as of now, these claims have no therapeutic evidence. 
#8 GNC Superfoods Spirulina
GNC Superfoods spirulina comes in gelatin capsules filled with 100% natural spirulina powder packed full of vital phytonutrients, vitamins, minerals, and protein. It's free of artificial colours, flavours, sugar, yeast, and gluten. It also doesn't contain any GMOs or pesticides. GNC Superfoods Spirulina is manufactured in California and has a potent nutritional profile. It's important to note that this spirulina is also considered vegan. However, many people find the spirulina's natural taste off-putting, and thus, it's recommended to mix it with other foods and drinks.
#9 Alkalizing Greens Complex
All of the spirulina's nutritional benefits come together in the Spirulina + Chlorella Alkalizing Green Complex dietary supplement, which is available in capsule form. This supplement is a perfect combination of a natural superfood and detoxifying and alkalizing agents, which makes it a powerful agent that can help with body detoxification and cholesterol level management. Packed with spirulina, protein, and chlorella, this supplement has a lot of health benefits besides helping to maintain healthy cholesterol levels in the body. For example, Spirulina + Chlorella Alkalizing Green Complex can help to eliminate cancer cells and control blood sugar levels.
#10 New Farmers Spirulina 
Cultivated and manufactured in New York, New Farmers spirulina is the only spirulina supplement on the market that isn't dehydrated after harvest. As a result, this nutritious and protein-rich product is less bitter than dried options sold by other manufacturers. New Farmers spirulina is available fresh and frozen in the form of pre-cut cubes that are very easy to put into drinks. This supplement tastes especially well when mixed with juices and smoothies.
The shelf life of this supplement is about two weeks after the harvest, and it needs to be stored in a fridge. New Farmers Spirulina is hypoallergenic, free of pesticides, and 100% vegan. 
#11 Zhou's Non-GMO Spirulina Powder
Zhou's Non-GMO Spirulina Powder is another crowd favourite, as this 100% pure plant-based product is full of protein, vitamins, minerals, and amino acids. This spirulina powder formula is cultivated in a natural environment in Southeastern California, following all GMP protocols. 
Its certification list is quite impressive, too, since it's not only approved by the FDA but also free of GMOs, gluten, pesticides, herbicides, and all common allergens. One downside of this supplement is that it's harder to monitor the dosage when you consume spirulina in a powder form. Some people also find spirulina's taste and odour off-putting.
#12 Sari Foods Pure Organic Spirulina Powder
If you're looking for a 100% natural spirulina powder, Sari Foods planet-friendly spirulina is an excellent option. This certified organic spirulina powder is not only rich in vitamins and minerals found in spirulina but also contains almost 70% of protein by weight. Sari Foods planet-friendly spirulina is free of dairy, wheat, gluten, corn, egg, soy, and yeast. No artificial flavours, colouring, or preservatives are used during the manufacturing process, which makes this product hypoallergenic. This supplement is certified for consumption by vegetarians and vegans, and every manufacturing step is closely monitored to ensure its quality and reliability. 
Like all other spirulina supplements, Sari Foods planet-friendly spirulina claims to help with conditions like anaemia and allergic rhinitis and improve muscle endurance. But these claims need further study and evaluation. Furthermore, this supplement is not recommended for people with pre-diagnosed health conditions.
FAQ
What is the safest spirulina?
The most reliable spirulina brands include FUL®, NOW Foods, New Farmers, Earthrise, Zhou's Non-GMO Spirulina Powder, HealthForce Spirulina Manna, and Sari Foods.
How can you tell if spirulina is real?
Good spirulina shouldn't have a shiny surface since this is an indicator that the supplement was crushed and compacted and then coated to prevent it from being crushed again.
What should I look for in spirulina powder?
When choosing a brand of spirulina, opt for 100% certified products. The certification means that spirulina hasn't been exposed to any synthetic pesticides, fertilizers, or GMOs and its manufacturing process complies with strict growing rules.
What is the best form to take spirulina?
Regardless of how and when you take spirulina, you'll still feel its benefits. Usually, the supplement is sold in the form of powder or tablets, so you can choose the format that works for you. Some people find that taking spirulina in tablets is easier as the dosage is already pre-measured. You can also try drinking spirulina in the form of a delicious sparkling drink produced by FUL®.