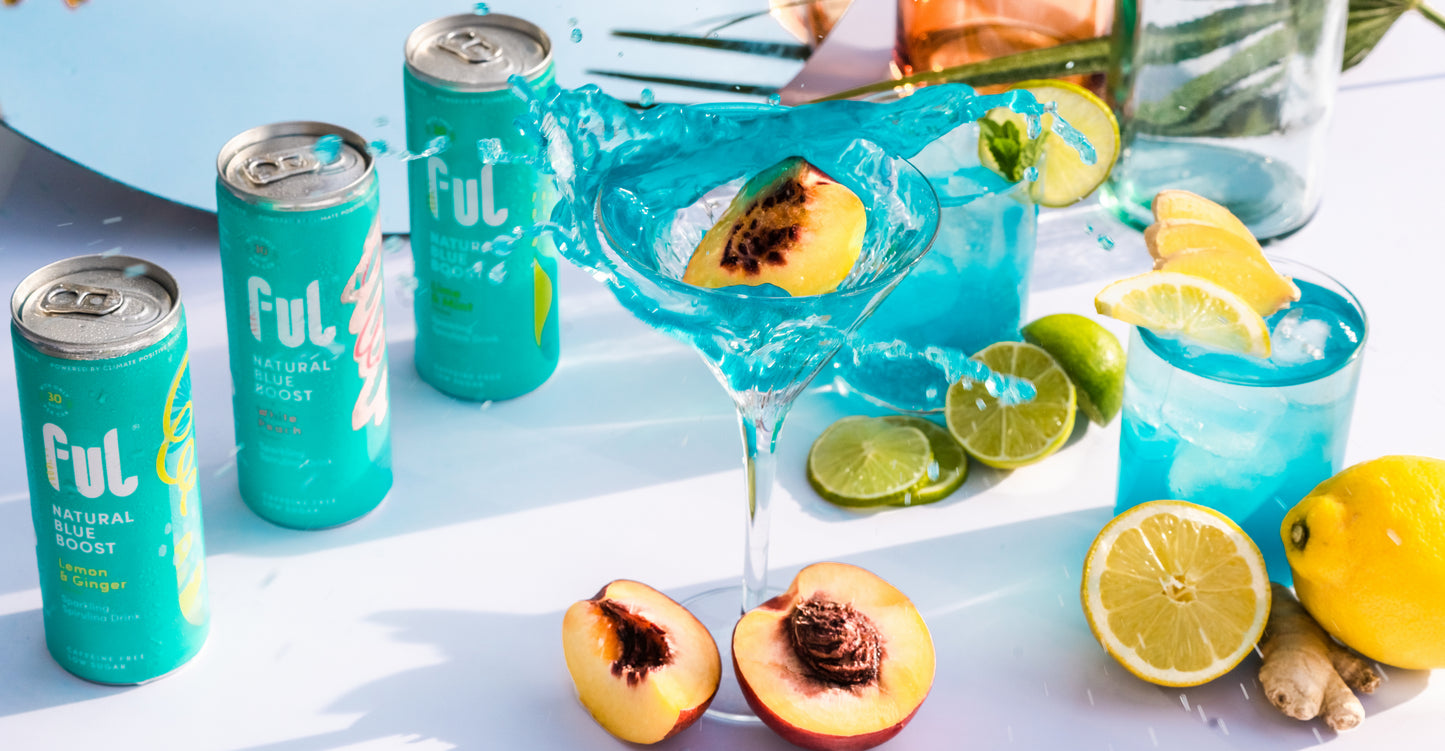 Key points: 
There are many non-alcoholic Christmas drinks you can make for your holiday party. We recommend trying Non-Alcoholic Mulled Wine, Italian Blood Orange Soda, Raspberry Cream "Mimosa", FUL

®

sparkling spirulina drinks, Amaretto Sour, Cranberry Pomegranate "Bellinis" With Lime, Slow Cooker Pear Cider, Blackberry Spritzer, Sparkling Berry Apple Mocktail, and Sparkling Honey Vanilla Blood Orange Mocktail. 

Punch is the easiest drink you can make before a celebration. Try delicious Grinch Punch and Ginger Cup Punch recipes. 

Whether you're looking to finish off your Christmas party with a hot beverage or a delicious drink to enjoy on cold winter days, Nutmeg & Orange Christmas Coffee, Iced Mint Protein Mocha, and Gingerbread Latte are the best recipes for you.
Christmas is around the corner and that means it's time to think about your Christmas menu. While there are some classic meals you can cook, what about drinks? If you're having a family party or looking for non-alcoholic drinks for teetotalers, we got you! There are many delicious Christmas mocktails and hot drinks you can choose from to build your holiday menu. From refreshing drinks to fizzy punches and comforting hot beverages, this guide has it all. 
Non-Alcoholic Mulled Wine
Let's start with a non-alcoholic wine alternative that is both delicious and easy to make. All you need is to mix sugar, blackberries, pomegranate, and apple juice in a saucepan. Add spices whichever you like, we recommend going with cinnamon, cloves, star anise, peppercorns, and orange. Heat until it starts to simmer. If you want a sweeter drink, add more sugar. Strain and serve!
Italian Blood Orange Soda
You won't believe that you only need 6 ingredients and 15 minutes to make this Italian soda. You will need blood oranges, unsweetened coconut milk, sugar, water, sparkling water, and red gel food colouring if you want a brighter colour. First, make a simple syrup by adding sugar to water into a saucepan and bring to a boil. Remove from heat and start stirring while adding blood orange juice. Add red gel food colouring (optional). Then add sparkling water, then coconut cream. For garnish use basil or mint.
Grinch Punch
How the Grinch Stole Christmas is a classy Christmas movie and for its fans, we have a great and tasty grinch punch recipe. you'll need lemon-lime kool-aid, sugar, pineapple juice, thawed frozen lemonade concentrate, sprite, and ice. First, dip the glasses in water and rim them with red sanding sugar. Pour water into a pitcher, add the Kool-aid mix and sugar and stir until the sugar dissolves. Add the pineapple juice and lemonade and stir thoroughly. Before serving, add ice and Sprite to the glasses and enjoy. Keep in mind that you should trim your glasses only before serving the punch, otherwise the sugar will dissolve. You can also use corn syrup instead of water for rimming. Add Sprite right before drinking because the drink may lose its carbonation.
Raspberry Cream "Mimosa"
The original Mimosa recipe requires spirits, but you can easily switch the alcohol for sparkling white grape juice. For the Raspberry Cream Granita, pour frozen raspberries into a pot and heat over medium heat until they look mushy. Add the sugar and keep stirring until it is dissolved. Remove from the heat and let it cool. Puree the raspberries either with a blender or a masher and strain them. Throw them into the freezer and let them cool slightly. Then add the cream and stir well, cover with a lid, and put it back into the freezer for a few hours. As soon as the raspberry cream granita is frozen, scoop a nice ball of it with a spoon and put it into champagne flutes. On top, pour the grape juice and stir gently to combine.
FUL®
If you want to treat your guests to delicious and healthy drinks, FUL® sparkling spirulina drinks are an excellent option. Delicious flavours including white peach, lime & mint, and lemon & ginger are not only refreshing, but loaded with vitamins, minerals, and antioxidants. And that mesmerising blue colour is naturally derived from phycocyanin, the most potent antioxidant in spirulina. FUL® drinks are perfect for family reunions, you can serve them to kids or add some alcohol and transform them into cocktails.
Amaretto Sour
For this delicious amaretto sour you'll need to blend pineapple juice, egg white, lemon juice, cherry syrup, and almond extract. Blend until the mixture is pale and fluffy. Add some ice and pulse some more or stir in the ice. Pour into glasses and use cherries to garnish. Quick, easy, and delicious!  
Ginger Cup Punch
Ginger is a taste of the holidays and this ginger cup punch will be a great onset to your Christmas menu. To make the base, you'll need cucumbers, ginger, apples, sugar, lemon slices, cloves, cinnamon, and water. Put all the ingredients into the saucepan and stir them over medium heat until the apples are soft. Remove from heat and add some vinegar. Let it cool and strain the mixture. Pour the strained mixture into the bowl, and add some mint, ginger, cucumber, and orange slices. Add ice, top the punch with the lemonade and gently stir.
Nutmeg & Orange Christmas Coffee
Coffee addicts will appreciate these delicious coffee recipes. First, pour boiled water over ground coffee, cinnamon sticks, ground nutmeg, and dates. Add cloves and orange zest for a stronger taste and enjoy! Stir gently and leave it steep for a few minutes. 
Iced Mint Protein Mocha
Another delicious coffee recipe for those who prefer iced coffee over hot. You need chilled coffee, almond milk, a scoop of chocolate Primal Fuel, unsweetened cocoa powder, raw honey and stevia for sweetness, mint leaves, and ice cubes. Blend all the ingredients together except ice cubes until the mint is well-blended. Then fill the glasses with ice, pour mocha and decorate with mint leaves. 
Cranberry Pomegranate "Bellinis" With Lime
Cranberries are a symbol of the holiday season and you definitely should include these Bellinis on your holiday table. The alcoholic version of this drink includes Prosecco, but you can always substitute it for a seltzer. For simple syrup, stir fruit juices and sugar in a pot and bring to a boil over medium heat. Simmer for a few minutes until the sugar dissolves. Pour simple syrup into a champagne flute, then top with seltzer and add freshly squeezed lime juice. Garnish with cranberries or lime if you want. If you buy sweetened cranberry or pomegranate juice, then add less sugar to a simple syrup.  
Slow Cooker Pear Cider 
If you're willing to spend some time making a cocktail, try this pear cider. You'll need pears, peeled and sliced oranges, cinnamon sticks, sliced fresh ginger, whole allspice berries, anise pods, cloves, pure vanilla extract, and maple syrup. Place pears, oranges, and ginger, in a slow cooker. Add spices like cinnamon, allspice, star anise, cloves, and vanilla. Fill the pot with water but leave some space on top. Cover and cook on high heat for about 4 hours, or on low heat for 8 to 9 hours. By the end of cooking, mash the pears. Strain into a large pitcher and stir in maple syrup. You can serve warm or chilled. 
Clementine Mock Mojito
For this tasty mojito, juice clementine and chop the other half. Pour the juice into the glass and add sugar. Stir and add chopped clementine and lemon. Muddle everything together. Add ice, orange blossom, and mint. Top with sparkling water and serve!
Crimson Christmas Punch
 A beautiful red drink is perfect to serve at a Christmas dinner. And it contains no alcohol which makes it suitable for all the family! To make it, you will need a tropical punch, cranberry juice, ginger ale, lemon juice, pineapple juice, and raspberry Sherbet. Chill all the ingredients beforehand and mix the juices into a large bowl. Then slowly add ginger, and scoops of raspberry sherbet and let sit for a few minutes.
Slow-Cooker Peppermint Bark Hot Chocolate
Another heavenly delicious drink that is worth every minute of the time you spend on making it. First, you will need to mix the milk, sweetened condensed milk, chocolate chips, vanilla extract, peppermint extract, and salt in a slow cooker. Then cover it with a lid and cook on high heat for about 2 hours, while whisking it to help the chocolate melt. Top the drink with whipped cream and crushed candy canes.
Blackberry Spritzer
Spritzers are the quickest and easiest drinks you can serve to your guests. And they taste yummy too! For this one, muddle blackberries into a cocktail shaker. Pour over orange juice, cinnamon syrup, and lemon juice. Shake thoroughly and strain into glasses. Top with the soda water of your choice and enjoy!
Sparkling Honey Vanilla Blood Orange Mocktail
This recipe consists only of four ingredients. All you need is blood oranges, honey, vanilla extract, and sparkling water. That's it! Well, besides ice. Simply add the blood orange juice to a cocktail shaker. Add the honey and vanilla extract. Shake again. Add ice to chill your drink. Pour evenly into glasses and top with lime sparkling water and garnish with a slice of blood orange.
Sparkling Berry Apple Mocktail
This drink consists only of mixed berry syrup, apple cider, and sparkling water. To make a mixed berries syrup combine frozen berries and sugar in a sauce pot. Bring to a boil over medium heat, then reduce and simmer until berries soften. Strain the mixture and let it chill. For a mocktail, mix berry syrup and apple cider in a glass. Add ice and sparkling water on top. Stir and serve!
Gingerbread Latte
Classic winter drink, this gingerbread latte is what you need to finish your holiday party! This recipe needs a slow cooker. You will need to throw milk, strong coffee, sugar, cinnamon sticks, powdered ginger, ground nutmeg, and whole allspice in a slow cooker for 3-4 hours over high heat. Stir well, then add a lid and cook either 2 hours on high heat or 4 hours on low while stirring once halfway through cooking. Serve hot and feel free to add whipped cream and caramel sauce as well as a dusting of cinnamon sugar.
FAQ
What is the best non-alcoholic drink for Christmas?
Christmas spirit doesn't need to involve actual spirits and you can make lots of delicious and children-friendly punches and mocktails. Try making Italian Blood Orange Soda, Raspberry Cream "Mimosa", Cranberry Pomegranate "Bellinis" With Lime, Slow Cooker Pear Cider, Sparkling Berry Apple Mocktail, and Sparkling Honey Vanilla Blood Orange Mocktail.
What is the healthiest drink to serve on Christmas?
Drinks can not only be tasty but healthy as well! FUL® sparkling spirulina drinks are proof of that. These fizzy drinks contain all the benefits of spirulina - the most powerful superfood in the world. They come in different flavours and have a beautiful naturally-derived blue colour.
What's the best hot drink for Christmas?
There's no Christmas without hot drinks and if you're willing to experiment, try making Nutmeg & Orange Christmas Coffee, Iced Mint Protein Mocha, or Gingerbread Latte to surprise your guests.