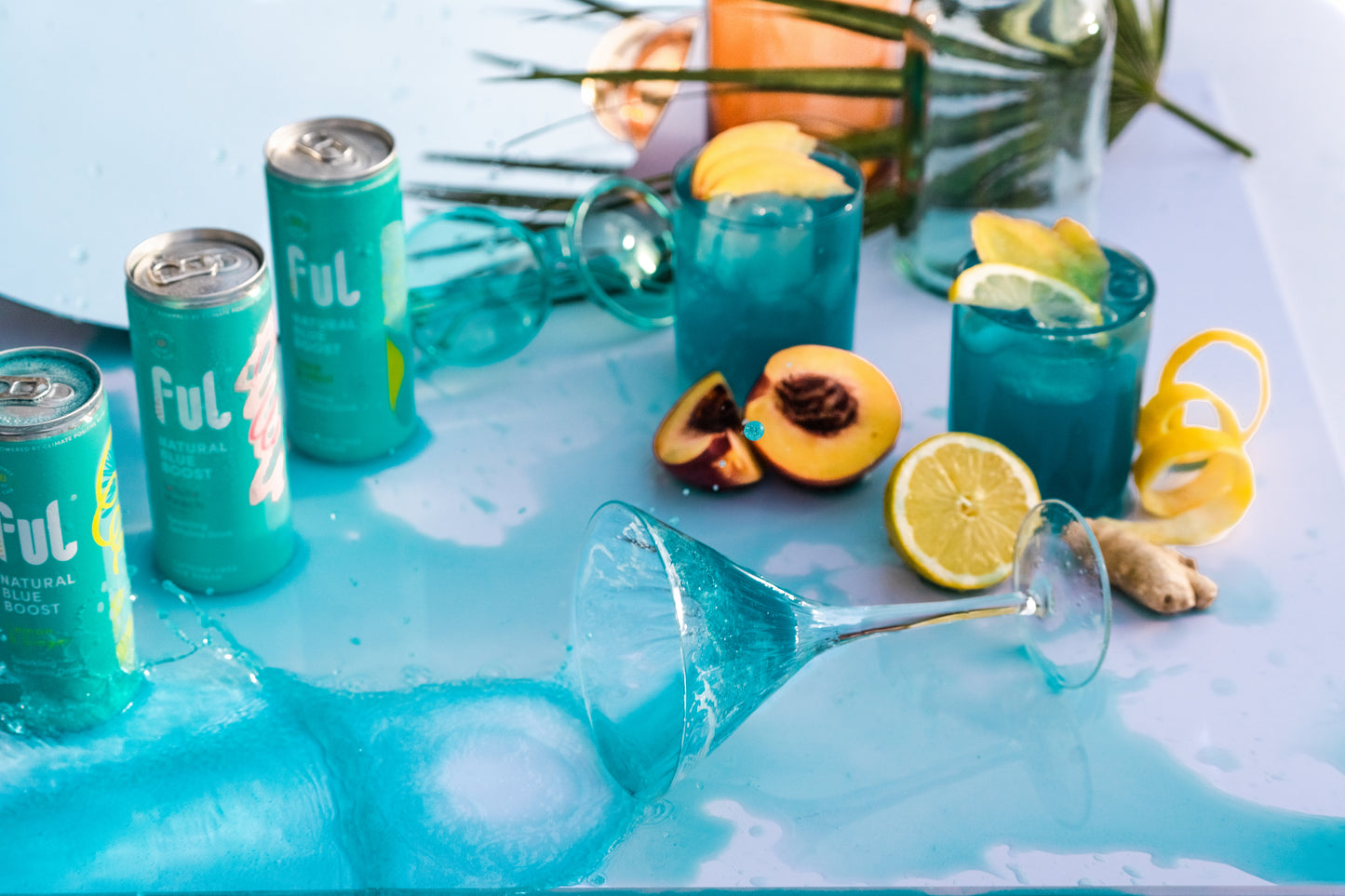 Key points
Spirulina's ocean taste is not for everyone, which is why many people search for different ways to incorporate this supplement into their meals and beverages.

It's hard to fully mask spirulina's taste at home, which makes FUL® sparkling spirulina drinks the best solution for those who want to get all of the spirulina's benefits and not suffer from its taste. This beverage is eco-friendly and healthy, with no added sugars or artificial sweeteners. It's packed with nutrients from spirulina extract. Plus, you can drink it on the go.

The easiest way to drink spirulina is to mix it with juices, smoothies, lemonade, lattes, and lemon cocktails. 

If you want to mix spirulina into your meals, try adding it to pesto sauce or salad dressings, make energy balls or smoothie bowls with spirulina, or sprinkle it over hummus.
Well-known as one of the best superfoods, spirulina is full of vital nutrients and healthy plant protein. This algae is widely used in all types of diets for its incredible health benefits. It's one of the best sources of antioxidants which also has potent anti-inflammatory properties, making it the most popular over-the-counter supplement for relieving and curing many diseases. However, because this blue algae is cultivated in a water environment, spirulina has an earthy seaweed taste and smell which many people find off-putting. So if you're looking for new ways to hide the smell, include spirulina into your diet, and make your meals delicious, this article is for you!
Spirulina is available in different forms, but it's most commonly purchased in tablet or powder form. While you can take the tablets like any other supplement, it's recommended to mix the spirulina powder with food instead of eating it straight. Hardcore health food lovers just mix the powder with water, but trust us, this is not how you want to take spirulina - there are a lot of alternative and tasty ways that will allow you to enjoy spirulina rather than make you pinch your nose every time you have to take it. 
FUL® Sparkling Spirulina Drinks 
Fizzy spirulina drinks by FUL® are great for those who want to enjoy all of spirulina's benefits on the go. These drinks are healthy and sustainable, and each bottle delivers a potent punch of nutrients from natural spirula extract. These beverages are excellent for those who don't have time to prepare their meals or look for ways to include spirulina into their diets - just grab a fizzy drink and get your daily dose of spirulina right away! 
FUL® sparkling spirulina drinks will provide you with a healthy kick of antioxidants as well as many vital nutrients. They come in a variety of delicious natural flavours to mask the taste of spirulina, and what's even better, FUL® beverages are made without artificial sweeteners! 
Mix Spirulina with Juices
The easiest way to hide spirulina's earthy taste at home is to mix it with your favourite juice. Citrus and tart juices such as orange, mango, pineapple, and grapefruit juices work very well. But you can confidently add spirulina to a green juice and mix it with a pinch of pepper to add a little spice. If you own a juicer, you can experiment and find what works for you. 
Add Spirulina to Your Smoothies
If you like starting your day with a smoothie, mixing in a little spirulina power will only increase the nutritional value of the drink and enrich it with protein. Spirulina will also give your drink a pleasant green colour, so your smoothie will be not only tasty and nutritious but also aesthetically pleasing! 
Spirulina mixes best with sweet, ripe fruits, but you can also mix it with spinach smoothies.
Spirulina Pesto Sauce
For all the pasta lovers out there, we recommend trying adding spirulina to a pesto sauce. Pesto sauce will offset spirulina's taste, so you will barely be able to taste it, but at the same time, spirulina will accentuate the colour and significantly improve the sauce's nutritional profile. That way, you can enjoy delicious pesto pasta while receiving all of spirulina's health benefits. 
Pesto sauce is very easy to make: blend pine nuts, lemon, garlic, olive oil, parmesan cheese, and basil together and add some spirulina into the mix. Stir the mixture to make sure it's smooth.
Spirulina Lemonade
Mixing spirulina with lemonade is another way to get a nutritious and refreshing drink. Plus, lemon is a great fruit for diminishing spirulina's taste. All you need to do is to whisk sparkling water with lemon juice, add a natural sweetener, and sprinkle spirulina over it.
Not many cocktails can benefit from a touch of ocean flavour, but all lemon cocktails go perfectly with spirulina. For example, you can use spirulina to enrich a lemon drop martini, limoncello mojito, lemon margarita, and many other cocktails.
Spirulina Energy Bites
Superfood bites are an easy and quick snack that will give you a nutrient boost. These are typically made from different types of nuts, dates, figs, coconut, and cocoa powder. When combining all of these ingredients, sprinkle in some spirulina to make your snack even more nutritious and filling. There are countless ways to make these bites or "energy balls", so you're free to experiment and find the best recipe for you.
Smoothie Bowls With Spirulina
Just like with smoothies, spirulina is a great addition to smoothie bowls - a great option to have if you want to boost your intake of vitamins, minerals, and electrolytes. They are also very hydrating and delicious! 
If you wonder what smoothie bowl to start with, here's a tip for you: mix mango chunks with bananas, mint leaves, dates, orange juice, water, and spirulina. Blend these ingredients, and voila - you have a nutrient-rich smoothie bowl full of antioxidants and electrolytes! 
S
pirulina Latte
If you go looking for coffee any time you need an energy boost, try making yourself a spirulina latte. Like any other protein-rich food, spirulina will provide you with energy while making your coffee more nutrient-rich. Just add a teaspoon of spirulina to your latte and enjoy a delicious and colourful drink! If you want, you can switch dairy milk to almond, coconut, or any plant-based milk to add a little sweetness. 
Spirulina Matcha Tea Latte
Matcha latte is a great antioxidative drink in and of itself, but to make its properties even more potent, you can mix it with spirulina! Just add about half a teaspoon of spirulina to your matcha latte, it'll quickly dissolve the green flavours will blend together. 
Keep in mind that matcha doesn't really hide the spirulina taste, so if you want to minimize it, opt for adding a smaller amount of spirulina. You can also add a bit of natural sweetener.
Spirulina Hummus 
Is there a better snack than vegetables dipped in hummus? Well, this is probably one of the easiest ways to include spirulina into your diet - just mix it with hummus! Spirulina will turn the hummus a dark-green colour, and both flavours will blend together perfectly. However, if you don't want to taste spirulina at all, opt for spinach or artichoke-based hummus.
Spirulina Vegan Ice Cream
If you like to make homemade ice cream, try adding ½ teaspoon of spirulina powder to it. The best ice cream flavours to mix spirulina with are pistachio, mint, and chocolate, but you're free to try whatever works for you! 
Green Bread with Spirulina Powder
If you enjoy baking bread at home, next time, try adding a little spirulina to the dough. This will give the bread an attractive green colour and a powerful nutrient boost. It's a great way to mask spirulina's taste too.
FAQ
What can I add spirulina powder to?
Spirulina is commercially available in the form of powder and tablets. The easiest way to consume powdered spirulina is to mix it with juices and smoothies. You can also add it to homemade lemonade and lemon cocktails.
How do you dissolve spirulina powder?
Sprinkle spirulina over any hot drink such as tea, latte or matcha, and the powder will quickly dissolve. If you want to mix it with a cold drink such as a smoothie or lemonade, just keep whisking or blending the liquid it until evenly mixed.
What can I use spirulina for?
Spirulina offers a variety of health benefits due to its impressive nutritional profile. Studies have found that consuming spirulina can help to manage blood sugar levels, lower cholesterol and blood pressure, aid in weight loss, and prevent heart disease. Spirulina is an amazing source of antioxidants that boost the immune system and fight free radicals in the body.
How do you make spirulina powder taste better?
If you're not a fan of spirulina's taste, try mixing spirulina powder with your meals and drinks. For example, you can make a smoothie using sweet or tart fruits such as bananas, pineapple, orange, or mango. You can also try sparkling spirulina drinks by FUL®, which are packed with spirulina extract to give you all the spirulina nutrients without any of the taste.
Can you mix spirulina with milk?
Yes, you can mix spirulina with drinks that contain milk, such as lattes, matcha or smoothies. You can also substitute dairy milk for any plant-based milk. To mix spirulina evenly with a drink, add small amounts of spirulina powder while whisking the liquid. If you add spirulina powder to hot drinks, it'll easily dissolve on its own.