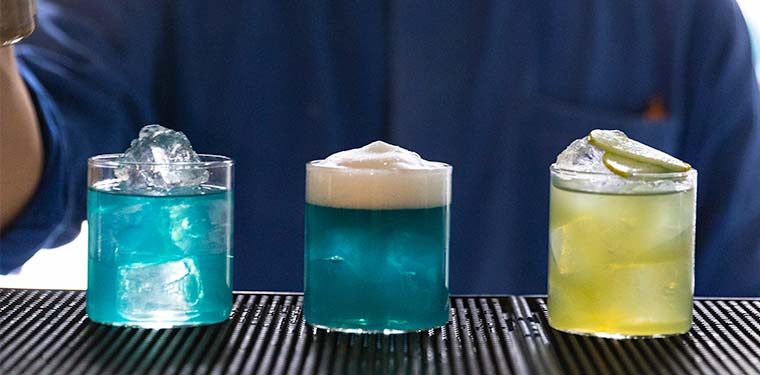 Key points
Spirulina has a generally unpleasant flavour that resembles sea and fish with earthy hints. That's why many people choose to include the supplement in their meals and drinks instead of consuming it with plain water.

To minimise spirulina's taste, you can add it to juices and smoothies made of sweet fruits such as mango, banana, and pineapple. You can also mix it into green smoothies to boost the drink's nutrient content and give it a vibrant green colour. 

Spirulina can be added to different desserts such as chocolate, ice cream, energy bars, chocolate truffles, and lemon pie. This will satisfy your taste buds and give you all the necessary nutrients.

If you want to include spirulina in your meals, try making spirulina pesto, spirulina pureed soup, or add it to scrambled eggs and omelettes.

FUL

® has found a way to improve the taste of spirulina and integrate it into delicious sparkling beverages.
Spirulina is a terrific dietary supplement and one of the most nutrient-dense natural products in the world. It's full of vital nutrients, including vitamins A, B, E, and K and minerals such as magnesium, calcium, and iron. Spirulina is also a great source of plant protein, and the algae contains lots of vital amino acids, chlorophyll, phytonutrients, and many antioxidants.
So... What's The Problem?
With all the benefits spirulina offers, there's no wonder that many people want to include this algae into their daily diet. And while some people mix plain spirulina powder with water, a lot of them find the spirulina taste off-putting. Others are repelled by the supplement's unpleasant earthy and seafood-like smell. If you've ever tried consuming plain spirulina powder, you probably know what we're talking about.
Spirulina tastes like the sea and has a green, earthy, and sometimes sulfuric or fishy edge. Spirulina has this odd taste and smell is because it grows exclusively in the water environment. Thus, it's grown in freshwater lakes, rivers, and ponds.
Fortunately, there are different ways to include spirulina in your meals and make them not only nutrient-dense but also tasty! Keep on reading to find out delicious ways to consume spirulina.
#1 FUL® Sparkling Spirulina Drinks
The best way to consume this superfood is via sparkling spirulina drinks by FUL®. FUL® has developed an innovative proprietary process that allows us to remove the unpleasant taste of spirulina from the algae. Our drinks contain just the right amount of spirulina extract to provide all nutritional benefits. As a result, you get a healthy and tasty sparkling drink full of nutrients, vitamins, minerals, and antioxidants. There's no need to look for different recipes that will help you diminish the spirulina taste because we already did it for you! Our drinks are available in a variety of different flavours, and you'll definitely find the right one for you.
#2 Springle Spirulina Over Smoothies
Adding spirulina to different smoothies is one of the most common ways to consume this algae. You can add it to your normal smoothie, and it'll give the drink a dark-green colour and make it more nutritious. Adding sweet fruits like bananas and mangoes can also help mask spirulina's smell. It's also a good idea to mix it with berries like strawberries and blueberries and greens such as cucumbers, kale, and spinach.
#3 Add Spirulina To Juices
Just like with smoothies, you can add spirulina to your juices. Opt for sweet fruit juices or make green lemonade by mixing spirulina with sparkling water and lemon. You can also add mint leaves for extra flavour.
#4 Spirulina Almond Latte
You can enhance your favourite almond latte with nutrients by sprinkling spirulina over it. You can also add natural sweeteners such as stevia to the drink.
#5 Spirulina Cashew Cinnamon Cream
Spirulina can help you create a deliciously sweet and creamy dip. All you need to do is soak cashew nuts overnight and then mix with a half cup of water, adding cinnamon, spirulina, and rice malt syrup. It tastes great with fruits, celery sticks and can be poured over salads and fruits.
#6 Homemade Spirulina Pasta
If you make pasta dough at home by using a pasta maker, try adding spirulina powder to increase the nutritional value of your meals and boost its nutritional content with B vitamins, iron, and protein! Even if you don't make your own pasta, you can add spirulina to the sauce and make spirulina pesto. Mix three tablespoons of water with one teaspoon of spirulina powder, and then add it to your pesto sauce.
#7 Spirulina Hummus
If you like dipping veggies into hummus, try to make the chickpea dip more colourful and nutritious by adding spirulina to it. Hummus is made of cooked, mashed chickpeas mixed with sesame seed paste, lemon juice, olive oil, salt, and garlic. This will make a great nutritious snack filled with essential nutrients!
#8 Pureed Soups with Spirulina
There are also different creative ways to include spirulina in your main meals, and one of them is sprinkling it over pureed soups. It tastes especially good with green soups made with spinach, zucchini, broccoli, chard, or green peas. However, it's better to add spirulina powder at the end of the cooking process to maximize the nutritional value it provides.
#9 Spirulina with Scrambled Eggs and Omelettes
If you want to diversify your breakfast, add spirulina to omelettes and scrambled eggs to add colour and make the meal more nutrient-dense. Just add a pinch of spirulina powder to the egg mixture before pouring it on a frying pan.
#10 Eat it in Sauces
Adding spirulina powder into different gravies and sauces is probably one of the easiest ways to benefit from this algae. Spirulina's taste will be minimized if not eliminated by strong-flavoured ingredients such as spices and herbs. It's better to stir in spirulina at the end of the cooking process since its nutrients are heat-sensitive, which will help save the product's nutritional value.
#11 Spirulina Powder in Salad Dressings
Green salad is always a good idea for a meal, but you can make it even more nutritious by adding spirulina powder to the dressing. This works just like with sauces, and you'll barely if at all, feel spirulina's taste. Instead of mixing plain oil or vinegar with spirulina, try adding apple cider or balsamic vinegar, dried oregano, pitted green olives, and raw honey.
#12 Healthy Vegan Ice Cream
Are you looking for a nutritious dessert? Try adding spirulina powder to a homemade mint or pistachio ice cream! This will not only give the desert a nutrient boost but also an appealing colour!  
#13 Spirulina Energy Bar
Homemade energy bars are great healthy snacks since most of those sold in grocery stores are packed with unnecessary sugar and chemicals. Homemade energy bars usually contain nuts, seeds, grains, honey, raisins and are a great source of energy and protein. So try adding a bit of spirulina to make them even more nutritious! 
#14 Spirulina Popcorn
Sprinkling popcorn with spirulina powder is another way to diversify your snacks! The easiest way to do this is to mix sea salt with spirulina powder, but for a stronger taste, you can add other spicy seasonings like chilli powder, parmesan cheese, or garlic powder. Add the seasoning while the popcorn is still warm and shake to ensure even coating.
#15 Spirulina Deserts 
If you're a chocolate lover, you can melt dark chocolate over low heat, let it cool, add spirulina and then let it sit in the fridge until it becomes solid. It's a quick and easy way to make your sweets more nutritious! 
Another idea is adding spirulina to homemade chocolate truffles to make them more nutritious. You can also make a healthy spirulina lemon pie. Lemon and chocolate will cover the spirulina's earthy taste, and you'll get a nutritious and tasty dessert! Remember to add spirulina when the dish itself cools down to get the full amount of nutrients.
FAQ
How do you make spirulina taste better?
To hide the spirulina's taste, try adding the supplement to fruit juices and smoothies, salad dressings, hummus, energy bars, etc. Alternatively, look for products that contain FUL® Spirulina.
What can you mix spirulina with?
Spirulina tastes great with different juices and smoothies, including mango juice, orange juice, pineapple juice, or green juices. While making the drink, don't put the powder directly into the juicer. Instead - pour the juice into a bottle and shake it to mix with spirulina.
How do you hide the taste of spirulina in a smoothie?
Not everyone likes the spirulina's taste, and the easiest way to shield it is to add spirulina powder into the smoothie. One teaspoon of spirulina powder is enough to give the drink a nutritional boost and a vibrant colour. Opt for sweet fruits such as banana, mango, or pineapple.
Is spirulina supposed to taste bad?
Yes, spirulina has a bitter taste and tastes like seaweed. This is because it naturally grows in the water environment. However, spirulina's taste can be masked by other products.
What does spirulina taste like?
Spirulina has an earthy, fishy taste, which is somewhat similar to the seaweed taste.
What is the best way to take spirulina powder?
Hardcore health food lovers take spirulina powder with plain water, but this method isn't for everyone because of spirulina's unpleasant taste. However, you can also mix spirulina into food and drinks to get full nutritional benefits. Alternatively, you can try FUL® Sparkling drinks, which contain spirulina extract and none of the taste. FUL® Spirulina as an ingredient will soon be found in a range of other tasty, convenient products.